Have you noticed that an affordable, nice looking shower curtain is sort of hard to find? I've been on the hunt for the past couple of weeks. Lily was quarantined in our guest bathroom for about a month and used her pent-up energy to destroy the shower curtain. It's full of tiny teeth holes and claw marks.
I thought I found the perfect curtain at West Elm, but after purchasing it I realized (by calling customer service and asking about the status of my order) that it was on big time back order and wouldn't be shipped to me until mid-April. Thanks for letting me know, West Elm. I canceled that order, since we have a friend in town all next week and I'm guessing he'll want to take a shower at some point.
After scouring the internet for a good replacement for my first choice, we decided to go with the Paris France Shower Curtain by Izola:
Runners up included the Arbor Shower Curtain by CB2: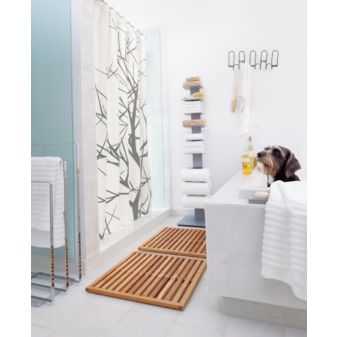 The Tree Shower Curtain by Urban Outfitters:
And the Apothecary Shower Curtain by Izola:
I was smitten for the Octopus Shower Curtain by Thomas Paul, but who has $120 to spend on such a thing?
Now, I wonder if I can get this striped hand towel by next week…